news
Katie Brice: Too Young to Drive, But Not for NASCAR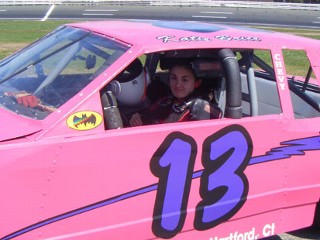 With a figurine of her favorite superhero, Batman, strapped firmly to the roll cage for luck, NASCAR's youngest driver hit the course today at the Stafford Motor Speedway.
Too young to drive to the racetrack (or the mall, for that matter), 14-year-old Katie Brice competed today in her first NASCAR-sanctioned race. Though she didn't finish, she got through more than half the race, which was better than many people expected.
She completed her heat in the entry-level series, racing alongside men more than twice her age, including her father. The middle-school student, who drives a bright pink 1986 Monte Carlo, is taking advantage of new NASCAR rules that allow kids as young as 14 to get a learner's permit to drive on sanctioned tracks.
"That was my dream," Katie says. "When you have your NASCAR license, you can race at any track in any car."
The nation's largest stock car racing league made the decision to lower the minimum age for obtaining a license from 16 to 14 in an effort to compete with other leagues that allow drivers as young as 12 to race.
When Katie was 12, she was just beginning to race in go-karts. With younger and younger children becoming interested in racing, she actually had a late start on dirt tracks, but her parents say she's always shown a passion for the sport, and more specifically, for speed. They like to talk about the first time Katie flew in a jet.
"She kept wanting the plane to go faster," says her father, Jim Brice, a truck driver and the owner of Smokey's Racing.
On the speedway, Katie will peak at 100 miles per hour on straightaways and roar around corners at up to 80 mph. She's not usually at the front of the pack, but given her age and experience, she's on the fast track for her racing career.
Her parents have been criticized for allowing their teenage daughter behind the wheel of a race car, but they compare it to other risky sports, such as skiing or football.
"The entry-level cars that they're participating in are safe, the tracks are safe, the specifications are really catered to safety," says Bill Long, vice-president of racing operations at Stafford Motor Speedway. "There isn't really a tremendous amount of risk and it's a great place to learn…"
Read the entire story here
Story and image credit: abcnews.go.com